Delivering Family Traditions Since 1965

Although Metropolitan Gravel's work started in 1963, it wasn't until the spring of 1965 that Red (Everett) Houle and Bill Ebertz joined forces to create Metro Gravel. As a result of the biggest floods and the highest water levels on the Mississippi in known history, Red and Bill cashed in on hauling dirt to build dikes, and then later, after the water receded, removed the dirt.
With this opportunity brought about by natural disaster, fueled by hard work, family support, and several big orange International 190 dump trucks that were previously owned by the City of Minneapolis, Metropolitan Gravel was launched.
Paving the Way for More Work

During the early days of Metro Gravel, Red and Bill were forming lasting business relationships with the 3M Company. At the same time, Bill's mother had property in Woodbury and Bill and Red converted the property into a gravel pit. It was during this time that the families of Red and Bill became involved in the business. Red's sons, West and Steve Houle, and Bill's brothers, Jake and John, all began running equipment in the gravel pits. Red's wife Sally, was also very involved in the business. Within a short period of time, Metro Gravel was responsible for the construction and demolition of many flood berms that were requested by Washington County to help save communities and towns along the Mississippi River.
To support their bursting business, Red and Bill bought an International TD-24 crawler dozer, three "just about new" 1965 Ford F-850 Super Duty Dump Trucks, a Pettibone front end loader, an Adams 660 Blade, and a self propelled wheel roller. Additional equipment was purchased that included a 640 Bobcat that Blackie Houle "ran to perfection" and a 966 Cat straight frame wheel loader. The company also purchased a pre-WW II KB gas tanker truck that Red made into a water truck and was subsequently ruined in the 1969 floods. Close to this time, Metro also purchased a 1940s Studebaker flat bed truck, converted to a fuel truck, and painted it a beautiful dark green with a light green stripe around the cab. Below the window, it said, "Long on good looks but short on a good engine." John Ebertz, Bill's brother, was the fuel man and he drove the "Studie until the engine gave out."
Tragic Loss and End of an Era
In July of 1970, Bill Ebertz, Red's partner was killed while operating the 440 Milken Pettibone loader in the gravel pit, as it tipped over onto him. Bill's mother Annie, who was the owner of the pit, closed the pit and all the equipment was sold other than two dump trucks, a roller, a Bobcat and a loader. The tragic loss of Bill Ebertz signified an end of an era for Metro and initiated another chapter in Metro Gravel's life. Red continued the business on his own and began leaning on his wife Sally, as well as family and friends to make sure that Metro would continue on and grow.
A New Chapter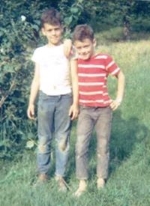 After Bill's death in 1970 and through the early 80s, Metro Gravel continued business with 3M and also developed many new relationships with contractors, construction companies, and haulers. By the late 1970s, Metro had 7 employees. This period in Metro's history was one of both challenges and high spurted growth. From cash flow issues common to growing businesses, to surviving seasonal pea
ks and valleys, Metro was building a dedicated and loyal workforce, as well as doubling the size of its fleet.
As business grew, so did the internal needs of the company. By 1987, Red's interest in the company was declining, while at the same time, Red's wife Sally and son West Sr., stepped to the plate to carry the company forward. In addition, West Sr's wife Laurie, with her rock solid business sense, was developing processes and procedures and handling Accounting, Billing, Human Resources and Dispatch. This family trio team, coupled with a loyal workforce, stimulated another significant growth phase for Metro – the foundation for today's strong business platform.
During the mid and late sixties, 3M's building boom gave way to many 3M projects for Metro. These projects included paving 80% of the streets in the area of 3M's research facilities, digging the foundations for 3M buildings, and all the excavating and grading in the area for the fountain which was replaced with a garden sometime after 2011, at the 3M Research facility in Maplewood, Minnesota. Metro's relationship with 3M continued to grow and by the late 1960s, included a contract for snow removal at the downtown 3M site off of East 7th street.
A Growing Team
To fuel the company's growth, Red and Bill were hiring relatives and friends along the way who contributed to the snowballing success of Metro Gravel. At the same time, Metro's increasingly diverse work required the purchase of a wide variety of equipment – equipment that was sometimes old, but could usually be brought back to life so that Metro could always say "yes" to a job.
To handle the growing work, Metro hired Red's uncle Harry Edwards, and Herb Tezzlaff to run an old Diamond jaw crusher. In addition to Red's sons, West Sr. and Steve, as well as, Bill's brothers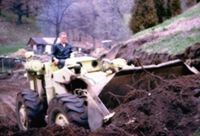 Jake and John, Metro now included Don Pilger (Sally's brother) and Blackie Houle (Red's brother) and others. In the midst of the continuing business boom, another tragic loss occurred in May of 1996; Sally and Red's son, Steve died while removing stumps at the family lake home when a Bobcat rolled over him. Sally, with West Sr. and Laurie's help, led the company until Sally's long battle with cancer took her life in 2003. Still to this day, Sally's death has left a huge hole in the hearts of Metro employees. Sally's presence is still felt at Metro while on many occasions, her spirit continues to linger and serve as source of inspiration!
In late 2009 West Sr. was diagnosed with lung cancer and after a courageous battle he passed away on May 19th 2010. As a tribute to a great man a video was produced in 2014 of West Seniors life and you can view it by clicking here.
Driving Up the Standards Of Excellence
By the late 1970's Metro started working for NSP (Northern States Power) Highbridge. Which eventually lead us to hauling for, King, Riverside, and Blackdog plants. In 1986, Metro Gravel began working for NSP hauling refuse to the burn units in Mankato and Redwing, Minnesota. It was during this time, that Metro constructed a second location in Elk River, Minnesota to better accommodate NSP's needs. Metro partnered with NSP and then Xcel Energy for many years to come, providing excellent services and solutions, while developing the Metro workforce and growing the internal capabilities of the company. Led by West Sr., and supported by his wife Laurie, during this high growth time, Metro forged and sustained many new partnership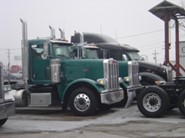 s and relationships with countless companies to transport an endless array of materials. In addition, a number of key business infrastructures were developed such as an integrated information technology system, employee benefits, and processes and procedures that would have a lasting impact on Metro's capability to expand, grow and deliver optimum customer service. As the transportation segment of the business grew, other lateral services were also created to provide customers with full service solutions including, truck and trailer repairs and service, as well as other integrated businesses. In 2009 Metro expanded into the over the road segment of transportation by purchasing D. Biscoe Trucking which specialized in hazardous materials and hazardous waste areas servicing customers both regionally and nationally. In 2013 the name was changed to Metro Transport Services, LLC. to better align with Metro family tradition.
Renewed for the Future
Metro's humble beginnings and over 55 years of building, sustaining and demonstrating customer service and solution excellence has helped Metro earn its reputation of dedication, sacrifice, trust, loyalty and great results.
Metro would like to thank our friend Jake Ebertz, a brother of Bill Ebertz, for recalling much of the history described in this piece. We will forever appreciate Jake's vivid recollections about Metro's history, his family's contribution to Metro's beginnings and growth, and the wonderful reminders of our long lasting roots.